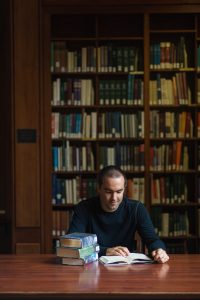 Freelance science fiction and fantasy editor Jeff Seymour (they/them) has been writing and editing for over a decade. They acquired titles for Carina Press as it built its science fiction and fantasy program and have edited over 100 novels, including helping bestselling and award-nominated authors get ready for publication.
Jeff believes that, as an author, you should look for three things in an editor: they should understand what you're doing, they should think it's exciting, and they should know how to help you do it better. Jeff will only take you on as a client if they fit those criteria.
In general, Jeff takes a collaborative approach to editing, not just telling you how to improve your manuscript but explaining the problems they see and asking questions designed to make you engage with your work more deeply. Their ultimate goal with any client is to help the client improve from book to book until they're writing bestsellers, award-winners, heartrendingly beautiful experiments in storytelling, or whatever else their goals may be. Jeff is a member of the Science Fiction and Fantasy Writers of America (SFWA), a trade organization open only to writers who have demonstrated professional-level sales.
Jeff is also an accomplished author. Their first novel, the dark epic fantasy SOULWOVEN, notched over a million reads on Wattpad and was self-published to strong reviews after a 2013 Kickstarter. Their traditional publishing debut, NADYA SKYLUNG AND THE CLOUDSHIP RESCUE, was published by G.P. Putnam's Sons in 2018, was a finalist for the 2019 Colorado Book Award in Juvenile Literature, and is being adapted for an animated streaming series. Both it and its sequel, NADYA SKYLUNG AND THE MASKED KIDNAPPER, received the Junior Library Guild Gold Standard Award.
Jeff specializes in editing science fiction and fantasy, and always puts authors first. They are currently closed to new clients, but wish you all the best in your writing endeavors.